Regala Un Albero piantato in Italia 
Regala Un Albero, progetto di salvaguardia ambientale attivo in Italia dal 2014, è nato dalla volontà di divulgare la cultura ecologica e di proteggere e valorizzare il paesaggio naturale italiano e la sua biodiversità attraverso la piantumazione di nuovi alberi e la tutela delle aree verdi esistenti. L'area scelta per la forestazione e la salvaguardia è quella della Sila Piccola, in Calabria.
I nostri alberi
Scegli quale albero regalare tra Quercia, Pino Laricio, Abete Bianco, Frassino e Faggio.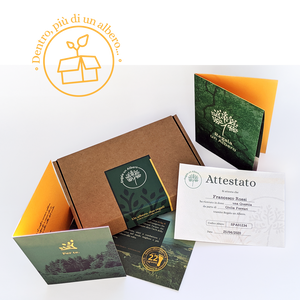 One Tree, two Gifts
To whom receives it and to nature.
And we prepared a special pack for that, in which a certificate with the unique tree code and your special dedication are included. Both printed on recycled paper with FSC® certification, which guarantees that these are materials coming from forests where strict environmental, social and economics standards are respected.
Ogni regalo, fisico o digitale, contiene:
Sei un'azienda? Crea il tuo bosco con Regala Un Albero
Scopri cosa possiamo fare per le aziende ed entra a far parte delle realtà che hanno già scelto di
piantare o adottare alberi per i loro dipendenti, clienti ed eventi.
REGALA UN ALBERO INSIEME ALL'UE PER PIANTARE 3 MILIARDI DI NUOVI ALBERI ENTRO IL 2030
Dal 2022, Regala Un Albero fa parte delle organizzazioni che, piantando alberi nel territorio dell'Unione Europea, contribuiscono al raggiungimento dell'obiettivo di 3 miliardi di nuovi alberi entro il 2030, fissato dalla Strategia dell'UE sulla Biodiversità.

Scopri di più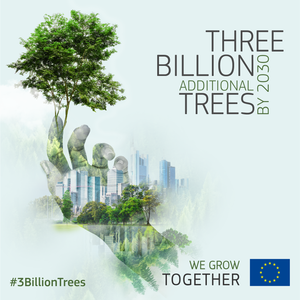 Blog Green: aggiornamenti su natura e sostenibilità
---
Il 21 settembre si celebra il Zero Emissions Day, giornata dedicata alla sensibilizzazione dell'opinione pubblica in merito all'importanza di azioni volte a ridurre concretamente le emissioni di gas a effetto...
La nuova Nature Restoration Law dell'UE, approvata dal Parlamento europeo mercoledì 12 luglio, apre la strada a un'azione comunitaria ancora più decisa e concreta per la tutela e il ripristino...